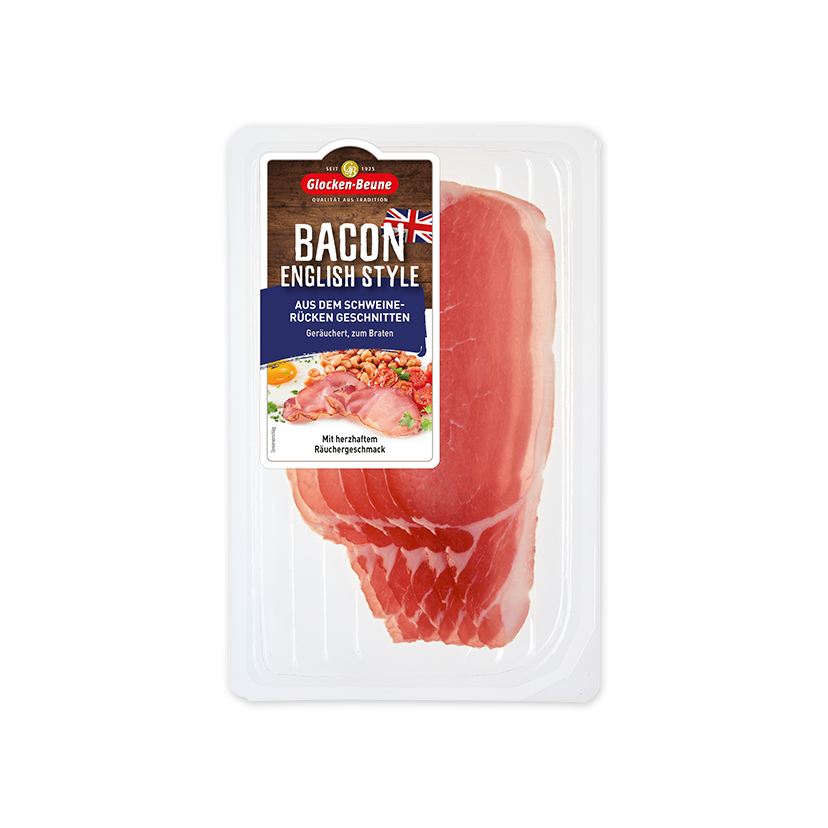 English-Style Bacon
Cut from the loin, smoked, for frying, 90g

Ideal for the frying pan or grill. Why not try the typical smoky bacon flavour of our Glocken-Beune English-Style Bacon? Cut from the loin, this speciality is not only ideal as a classic brunch dish. You can enjoy our Glocken-Beune English-Style Bacon whenever you like – and you will never have to compromise on taste.
Why not try one of our delicious recipes with bacon?
Ingredients: pork, table salt, dextrose, maltodextrin, spices (lovage root, garlic, white pepper), antioxidant: sodium ascorbate, preservative: sodium nitrite, maturing starter cultures, beechwood smoke.
 Average nutritional values per 100 g
| | |
| --- | --- |
| Calorific value | 940 kJ / 226 kcal |
| Fat | 15 g |
| of which saturated fatty acids | 6,2 g |
| Carbohydrates | 0,4 g |
| of which sugar | 0,4 g |
| Protein | 22 g |
| Salt | 3,2 g |
Baked beans with bacon and egg
Egg on toasted rolls with bacon
Bean soup with
bacon and pear
Stir-fried vegetables
with bacon