Where Tradition Meets Taste
Westphalian ham and sausage specialities
from Glocken-Beune

Now in our fourth generation, we have been making sausage and ham products of the finest quality since 1925. Our production facilities are in the heart of the Teutoburg Forest. With a combination of meticulous care, perfect craftsmanship and modern technology, we ensure that our products meet the highest quality standards. Glocken-Beune specialities – for unique moments of gourmet pleasure, every single day.
---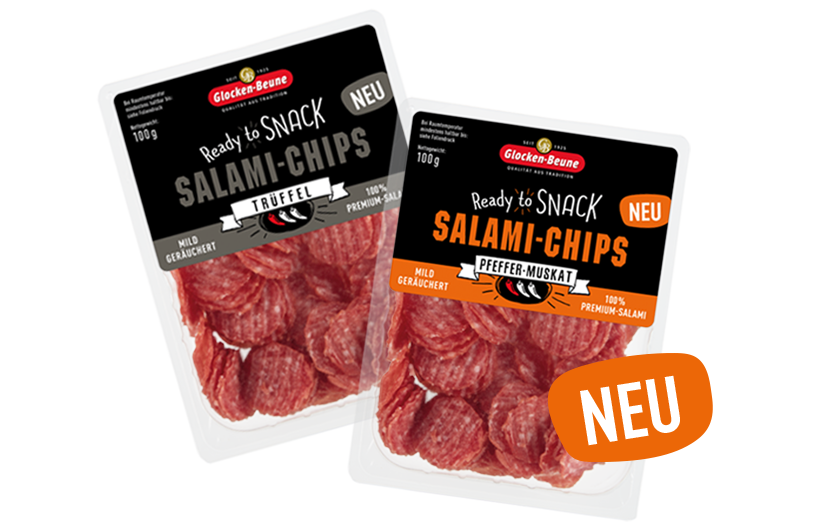 New Flavours
For those who love a good snack: we are always creating new snacks in our gourmet artisan kitchen, and adding to our popular Ready to Snack range, knowing full well that trendsetters just love variety.
What about trying some of our salami chips? They come in many flavours – truffle flavour with an exotic, peppery note, for example, or fiery hot and spicy. And we'll be tickling even more taste buds in future, as there are simply no limits to our imagination and your taste!
Sausage production at Glocken-Beune – and interesting facts about the Westphalian tradition of sausage production
Since 1925, the name Glocken-Beune has stood for traditional Westphalian sausage and ham production. Our products are made according to traditional family recipes, complemented with new flavours, because we feel committed to the tradition of Westphalian sausage production. And it is a tradition we take very seriously. After all, there is a very long history of sausage production in the Teutoburg Forest region. For the production of our entire range of Westphalian meat products we combine traditional methods of preparation with all the possibilities of today's modern technology. So we are also ideally positioned to meet the market challenges of the future – because good, high-quality products never go out of fashion.
We only use QS-certified quality meat or meat from certified organic farms in our sausage production. Did you know that Westphalia has been considered the sausage kitchen of Europe for centuries? A traditional Westphalian saying puts it in a nutshell: "There's nowt better than a short prayer and a long piece of mettwurst sausage!" Heinrich Heine is also known to have described the area as the "homeland of ham". And by the way, it's not just here that Westphalian sausage products are well known – they are popular abroad, too.