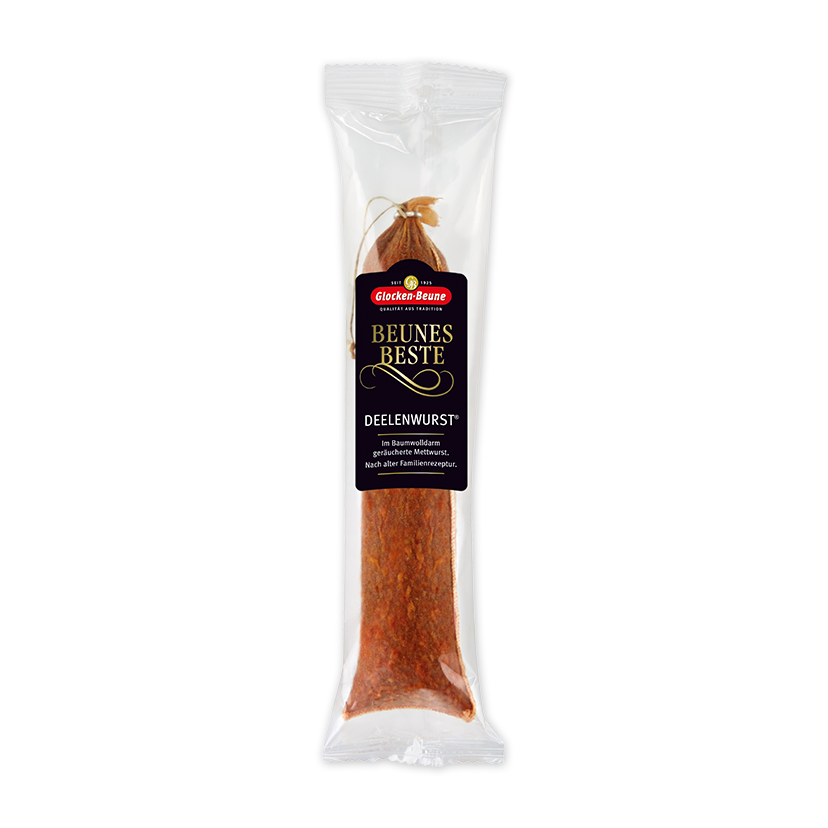 Deelenwurst
A mettwurst sausage smoked in a cotton casing, 500g

Beune's Best Deelenwurst sausage is produced according to an old, traditional family recipe. Lightly smoked and delicately seasoned, this sausage has a distinct character. Deelenwurst sausage has always been matured in cotton casings. These maintain the lasting aroma of this Westphalian sausage speciality.
Why not try one of our delicious recipes with Deelenwurst sausage?
Ingredients: pork, table salt, spices, sugar, glucose, antioxidants: ascorbic acid, preservative: sodium nitrite, maturing starter cultures, beechwood smoke.
 Average nutritional values per 100 g
| | |
| --- | --- |
| Calorific value | 1545 kJ / 373 kcal |
| Fat | 33,0 g |
| of which saturated fatty acids | 13,5 g |
| Carbohydrates | 1,0 g |
| of which sugar | 0,1 g |
| Protein | 18,0 g |
| Salt | 3,53 g |
Gourmet Smoked Rolled Fillet of Ham
Recipes with Beune's Best
Cream of broccoli and vegetable soup
with Glocken-Beune Smoked Beef
Lentil salad with vegetables
Smoked beef carpaccio with rocket