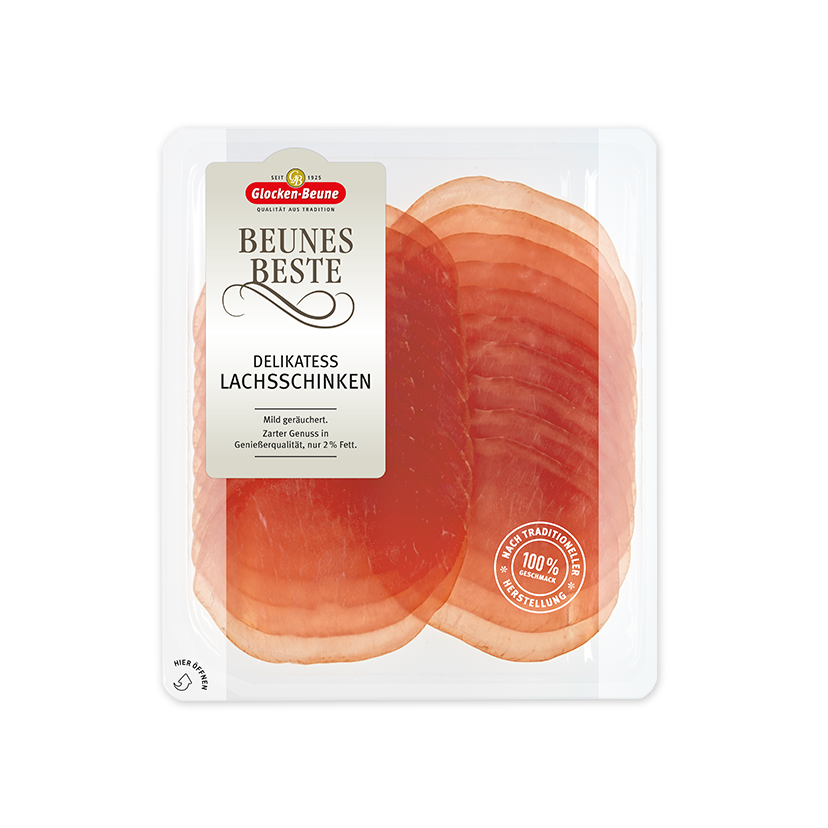 Gourmet Smoked Rolled Fillet of Ham
Lightly smoked, 100g

A classic cut from the central loin chops of the pig, Beune's Best Gourmet Smoked Rolled Fillet of Ham, lightly smoked. A real treat for the taste buds with its subtle seasoning and delicate smoky aroma. Its thinly cut slices have a wonderful taste and fresh, natural salmon colour. Made according to an old family recipe.
Why not try one of our delicious recipes with Gourmet Smoked Rolled Fillet of Ham ?
Ingredients: pork, table salt, glucose syrup, dextrose, spices (ginger, garlic, white pepper, nutmeg, mace), antioxidant: sodium ascorbate, preservative: sodium nitrite, maturing starter cultures, beechwood smoke.
 Average nutritional values per 100 g
| | |
| --- | --- |
| Calorific value | 566 kJ / 134 kcal |
| Fat | 2,0 g |
| of which saturated fatty acids | 0,8 g |
| Carbohydrates | 1,0 g |
| of which sugar | 0,8 g |
| Protein | 27,9 g |
| Salt | 4,53 g |
Gourmet Smoked Rolled Fillet of Ham
Recipes with Beune's Best
Cream of broccoli and vegetable soup
with Glocken-Beune Smoked Beef
Lentil salad with vegetables
Smoked beef carpaccio with rocket