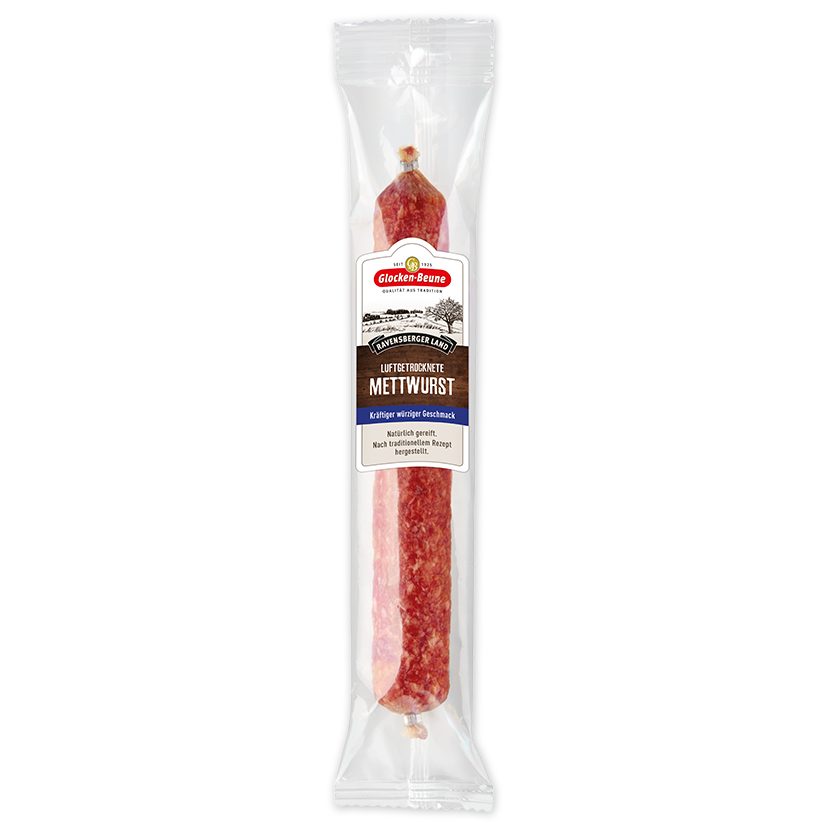 Air-Dried Mettwurst Sausage
Distinct, spicy taste, 250g

Ravensberger Air-Dried Mettwurst sausage is produced according to age-old family tradition. With its distinct spicy taste, this sausage makes an ideal hearty snack. Ravensberger Land sausage, from the heart of Westphalia.
Why not try one of our delicious recipes using mettwurst?
Ingredients: pork, table salt, spices, glucose syrup, glucose, sugar, antioxidant: ascorbic acid, preservative: sodium nitrite, maturing starter cultures.
 Average nutritional values per 100 g
| | |
| --- | --- |
| Calorific value | 1872 kJ / 452 kcal |
| Fat | 40 g |
| of which saturated fatty acids | 16 g |
| Carbohydrates | 1,0 g |
| of which sugar | < 0,5 g |
| Protein | 22 g |
| Salt | 4,2 g |
Air-Dried Mettwurst Sausage
Ravensberger Land Recipes
Rigatoni all'amatriciana with
Glocken-Beune Air-Dried Mettwurst Sausage
Pasta salad with tomatoes,
Glocken-Beune Turkey Salami