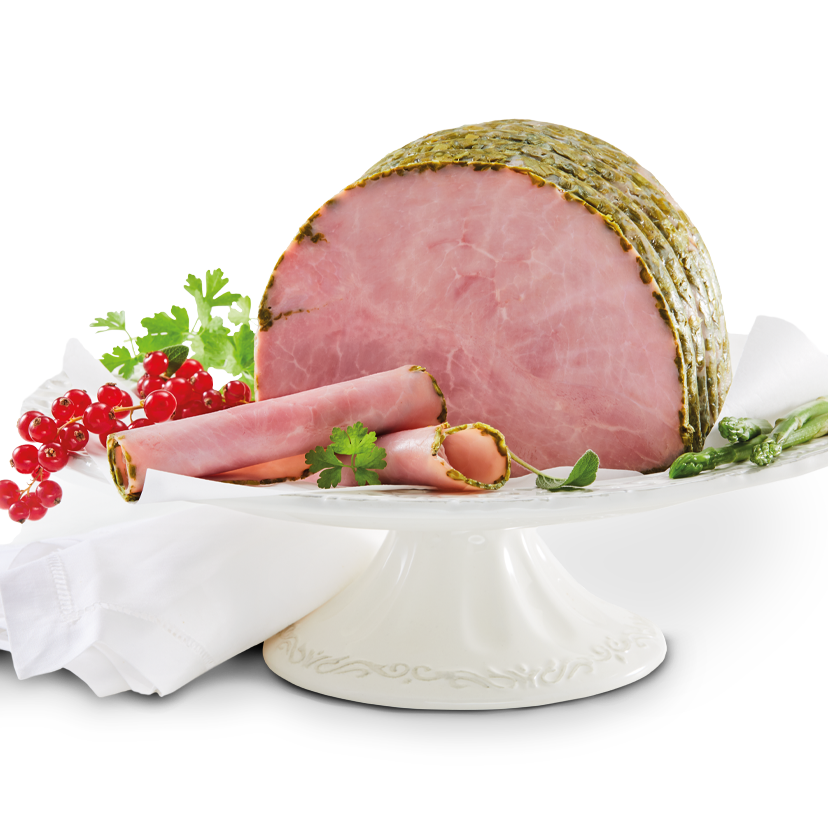 Asparagus Ham
A delicate aroma for the discerning palate.



Gently cooked ham with a green asparagus crust.
For true gourmets: our Beune's Best Asparagus Ham has a delicious, fine asparagus note. The distinct aroma of green asparagus is absorbed by the boiled ham as it matures, giving it a wonderful asparagus flavour. Enjoy our appetising Beune's Best Asparagus Ham in a fresh baguette, with salad, or with asparagus. It is also ideal for use in light ham dishes. Beune's Best Asparagus Ham is available from the service counter.
Why not try one of our delicious recipes with asparagus ham?
 Average nutritional values per 100 g
| | |
| --- | --- |
| Calorific value | 526 kJ / 125 kcal |
| Fat | 5,0 g |
| of which saturated fatty acids | 1,7 g |
| Carbohydrates | 1,0 g |
| of which sugar | 0,4 g |
| Fibre | 0,1 g |
| Protein | 19,0 g |
| Salt | 3,00 g |
Air-Dried Mettwurst Sausage
Ravensberger Land Recipes
Rigatoni all'amatriciana with
Glocken-Beune Air-Dried Mettwurst Sausage
Crêpes with rocket, Glocken-Beune Asparagus Ham and cheese
Asparagus ham rolls
with dried tomatoes
Pasta salad with tomatoes,
Glocken-Beune Turkey Salami