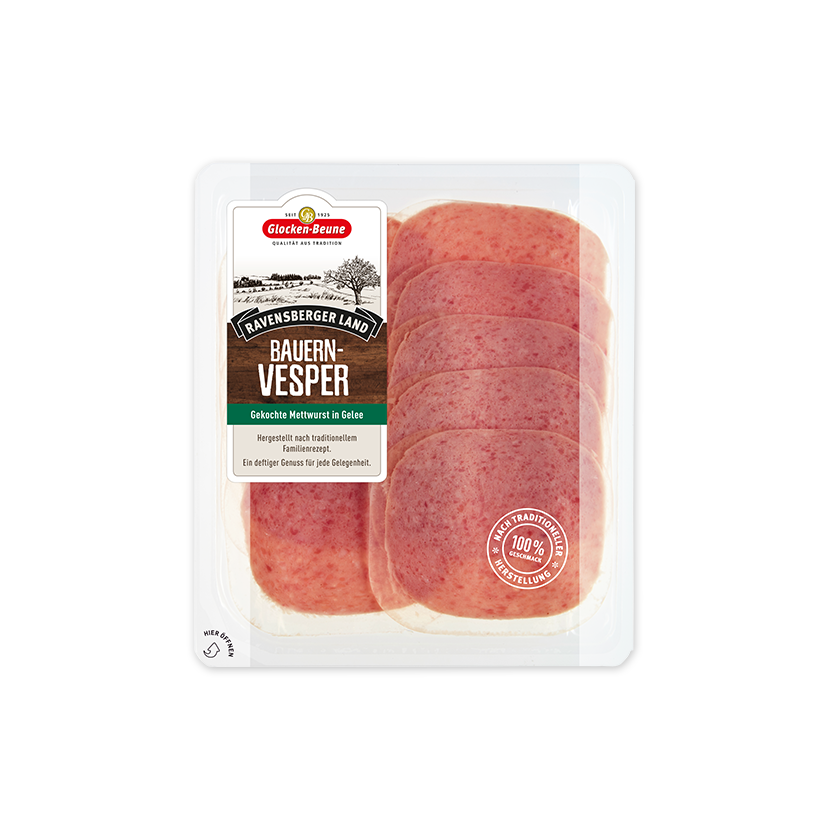 Farmhouse Cold Cut
Boiled mettwurst sausage in aspic, 125g

A hearty treat for the taste buds, made from the finest pork. Ravensberger Farmhouse Cold Cut is produced according to a traditional family recipe. Delicate pork in a coating of fine aspic made from a spicy gelatine forms the basis of this speciality. Ravensberger Land sausage, from the heart of Westphalia.
Ingredients: pork (63%), water, gelatine (pork), table salt, spices (onion, white pepper, lovage), sucrose, antioxidant: ascorbic acid, sodium ascorbate, pepper extract, stabiliser: sodium citrate, preservative:
sodium acetate, sodium nitrite.
 Average nutritional values per 100 g
| | |
| --- | --- |
| Calorific value | 880 kJ / 212 kcal |
| Fat | 15,0 g |
| of which saturated fatty acids | 6,6 g |
| Carbohydrates | 2,0 g |
| of which sugar | 0,5 g |
| Protein | 17,0 g |
| Salt | 2,40 g |
Air-Dried Mettwurst Sausage
Ravensberger Land Recipes
Rigatoni all'amatriciana with
Glocken-Beune Air-Dried Mettwurst Sausage
Crêpes with rocket, Glocken-Beune Asparagus Ham and cheese
Asparagus ham rolls
with dried tomatoes
Pasta salad with tomatoes,
Glocken-Beune Turkey Salami