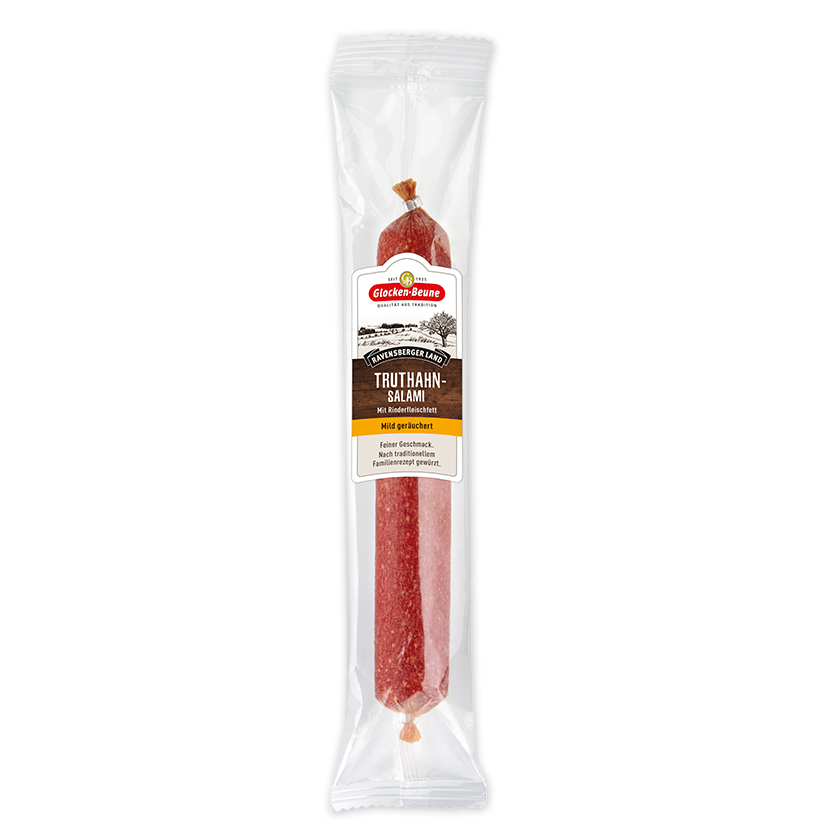 Turkey Salami
With beef muscle fat, lightly smoked, 250g

Ravensberger Turkey Salami is seasoned with the finest herbs. Ginger and coriander give it its delicately spiced aroma. Lightly smoked, it has a unique, tangy flavour. Ravensberger Land sausage, from the heart of Westphalia.
Why not try one of our delicious recipes with turkey salami?
Ingredients: turkey, beef fat, table salt, spices (pepper, garlic, nutmeg, coriander, ginger, mace), dried glucose syrup, glucose, antioxidant: ascorbic acid, preservative: sodium nitrite, maturing starter cultures, beechwood smoke.
 Average nutritional values per 100 g
| | |
| --- | --- |
| Calorific value | 1468 kJ / 354 kcal |
| Fat | 30,0 g |
| of which saturated fatty acids | 13,3 g |
| Carbohydrates | 1,0 g |
| of which sugar | 0,6 g |
| Protein | 20,0 g |
| Salt | 3,5 g |
Air-Dried Mettwurst Sausage
Ravensberger Land Recipes
Rigatoni all'amatriciana with
Glocken-Beune Air-Dried Mettwurst Sausage
Crêpes with rocket, Glocken-Beune Asparagus Ham and cheese
Asparagus ham rolls
with dried tomatoes
Pasta salad with tomatoes,
Glocken-Beune Turkey Salami