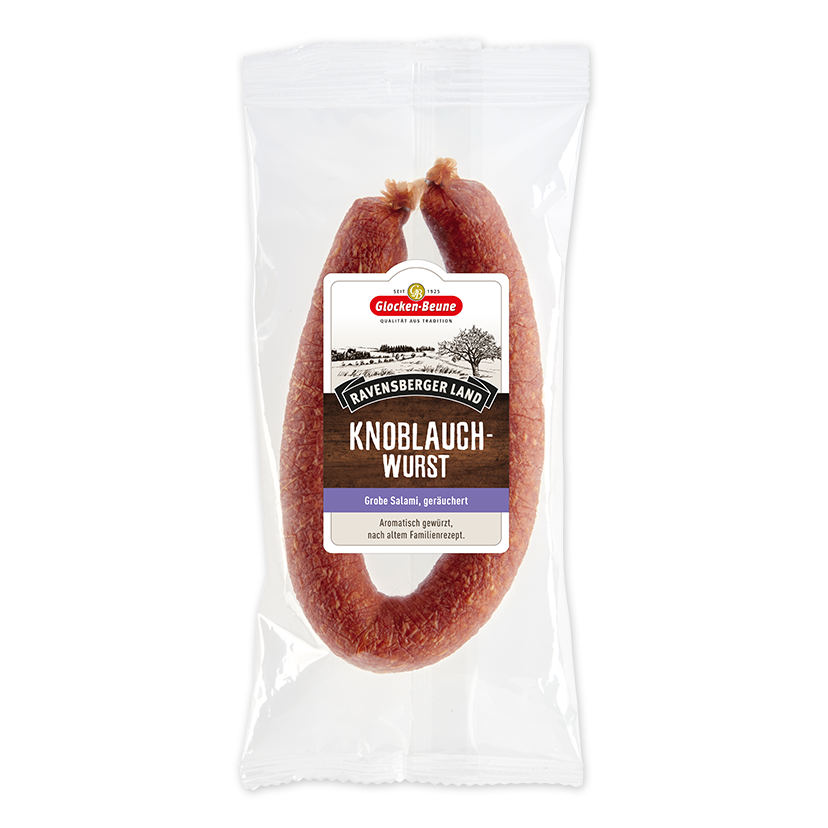 Garlic Sausage
Coarse-grain salami, lightly smoked, 350g

Ravensberger Garlic Sausage is produced in accordance with good old family tradition.
Lightly smoked, seasoned with aromatic spices and perfectly balanced with a note of fine garlic, this really is a particular delicacy. Ravensberger Land sausage, from the heart of Westphalia.
Why not try one of our delicious recipes with salami?
Ingredients: pork, table salt, glucose syrup, dextrose, spices (garlic, pepper, nutmeg, coriander, ginger, mace), antioxidant: ascorbic acid, preservative: sodium nitrite, maturing starter cultures, beechwood smoke.
 Average nutritional values per 100 g
| | |
| --- | --- |
| Calorific value | 1619 kJ / 391 kcal |
| Fat | 35 g |
| of which saturated fatty acids | 12 g |
| Carbohydrates | 1,0 g |
| of which sugar | < 0,5 g |
| Protein | 18 g |
| Salt | 4,2 g |
Air-Dried Mettwurst Sausage
Ravensberger Land Recipes
Rigatoni all'amatriciana with
Glocken-Beune Air-Dried Mettwurst Sausage
Pasta salad with tomatoes,
Glocken-Beune Turkey Salami